MAGICAL B&W PHOTO AND VIDEO COLORIZATION
A Photomyne-developed colorization process that breathes new life into B&W photos and videos!
Photomyne Ltd. does not claim any copyrights in the video clips used in this demo. Read morePhotomyne Ltd. has taken only small sections of certain videos in order to demonstrate the capabilities of its technology under fair use.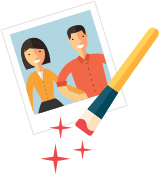 Take it for a test drive
Upload a photo to try it for yourself

My parents wedding photo, 1930, Brunswick, Germany

My Grandmother, age 18, 24 June 1941, Junction City, Kansas, US

Untitled photo scanned with Photomyne, unknown year

My Grandmother Edith Ola Johnson Meyer and my Grandfather William John Meyer, 1914
Download the Photomyne apps to colorize and scan your old photos