Get ready to level-up your Photomyne iPhone/iPad experience. We're excited to announce our newest iOS update and it comes with improvements you've been asking for. Scanning, sharing and enjoying your photos should always be as easy as possible and these new features will help you do so.
(Note: update is currently for iOS. Stay tuned for the Android update)
Capture your images by voice command
Have you had trouble with blurry images because you can't seem to keep the phone steady while scanning? That's okay, you're not alone. We've added voice control so you can get those scans as sharp as possible without the distraction of pressing 'capture'.
By selecting the voice control icon (a person with a speech bubble) in the top left corner of your screen, you'll activate the option. Make sure to accept the app's permissions to access both your phone's microphone and speech recognition. If you decline either or both options, voice command won't work.
Once your permissions are set, all you have to do is align the photo as you would any scan and say "Go" for each scan. The app will take care of the rest - cropping, enhancing, saving, etc. - as it would a manually scanned photo. Ask SlideScan and FilmBox users - it's a timesaver and incredibly convenient.
Face tagging
Keeping track of the people in your photos just got a whole lot easier thanks to facial recognition. The app now identifies people in your photos and tags them so you can retrieve memories with specific friends and family whenever you want.
Once a face is marked, all you have to do is add a name to the tag. Those tags will then become searchable from the app's main screen for any of your needs. Any image you tagged with that name will appear in your search. You can then select all the images you'd like from that tag and proceed with all of your standard actions - i.e. sharing, editing, and video creation.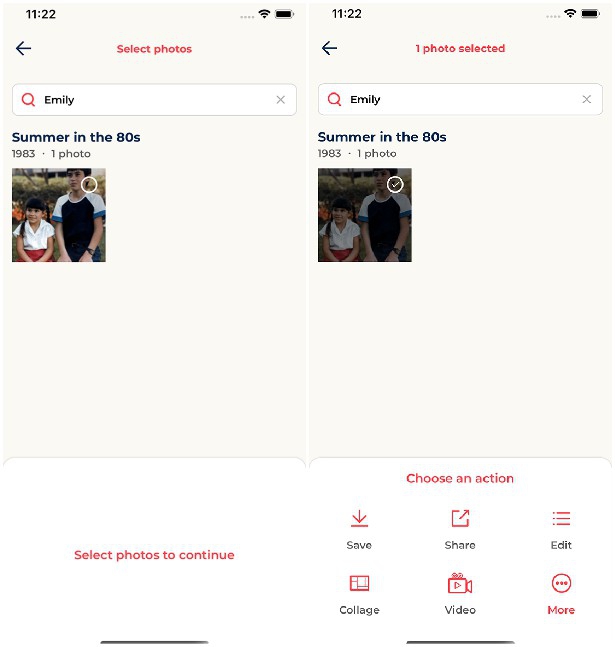 Welcome to our widget
Your photos should be a constant reminder of the life you and your loved ones have lived. We've made sure you get a taste of nostalgia even before you open the app thanks to our new widget.
When you open up the Photomyne widget, you'll see that we've showcased some of your photos. That way, you'll have a quick reminder of the memories you've saved and can relive those magical moments outside the app itself.
---
Have any questions or feedback about these changes or the app itself? Drop us an email at support@photomyne.com.
Remember to follow us on Instagram, Facebook, and Twitter for great vintage photos and any new updates.