One of the many exciting features Photomyne has to offer is an especially sweet perk for Photomyne account members*: web access (via desktop or laptop) to their scanned photos. Those who join and subscribe to a Photomyne account are invited to log in to their account on the Photomyne website and access all of their photos on the web, regardless of their device or its operating system.
*Formerly 'Photomyne Cloud' or 'Premium.'
How to log in to your Photomyne account on the web
Go to photomyne.com and look for the Log in button on the top right corner. Click it, enter your account credentials and log in:
What logged in looks like
You're in! Now what?
There's plenty of things you can do here, aside from browsing your photos online:
Download photos from the web straight onto your computer
To do this, all you need to do is go to a specific album page, and then look for the Save album icon on the top right. Click that to prompt the album's download. It will be downloaded to your computer's Downloads folder, as a compressed (zip) folder.
Download photos from your online account onto your PC or Mac
To open the zip folder after download, simply look for the most recent download in your Downloads folder, and double-click it. It will un-zip the folder and show you the actual photo files (in .jpg format).
Edit album details
Use your computer's big screen and keyboard to enter or edit your album's details - just the same as in the app. Feel free to add the album's title, names of people, date, location and more. Look for the pencil icon on the top-right corner of the photo thumbnails, and an editing window will pop-up for you:
Edit album details online
All the edits you make online will be synced to the app on your device. So simple!
Share your photos
Select a few photos or share them all, by clicking the share icon on the top-right. This will prompt a photo selection screen. Mark which photos you'd like to share, or click the Select all option on the top-left part of your screen.
Once you're happy with your selection, click the Share photos button on the top-right. This will prompt a pop-up window which will offer social media network options, as well as an option to simply copy the link of your shared photos.
Upload photos from your computer into your Photomyne account
Any uploaded photos will be synced to the album in the app, on your device, too! To start, click the Upload photo (picture) icon or, alternatively, click the Upload photos thumbnail box showing right next to the last photo image:
Upload photos from your PC onto your Photomyne account online
Clicking one of the two upload buttons will prompt your computer's files folders, so you can choose the source of the photo files you'd like to upload. You can upload up to 100 JPG files per upload.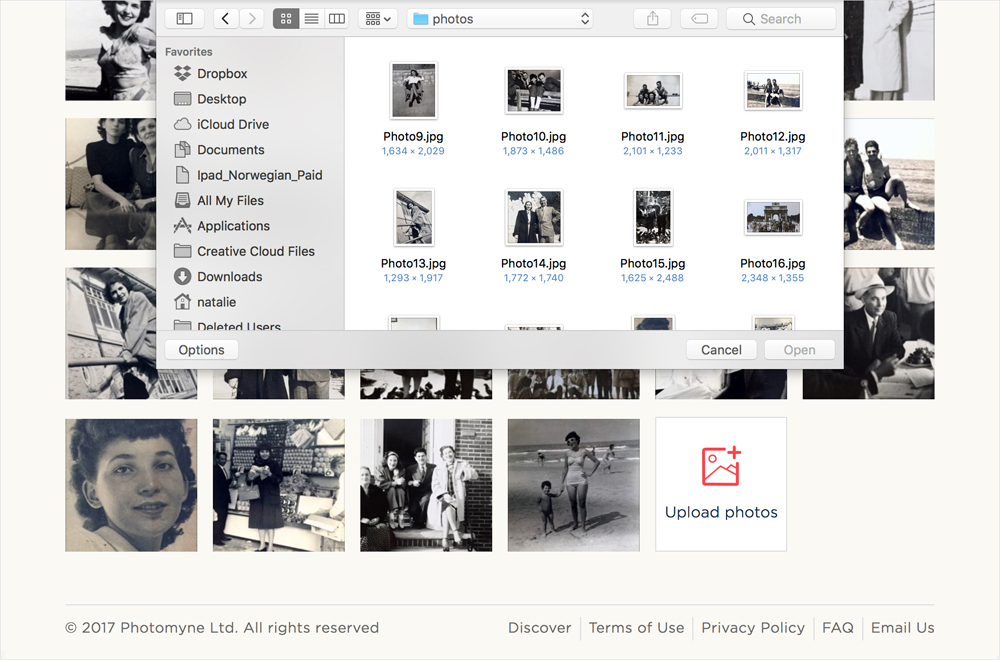 Choosing the photos you wish to upload
Upload in progress
By the way, you can also upload an entire album on the web. To do this, follow the same process as described above, while on your main albums page.
Delete albums
Although not recommended, you can delete any Photomyne album from your account, while logged in online. Simply click the trash can icon on the top-right to do so.
Let it sync...
To avoid account sync issues, and to make sure you view all your most recent albums and photos scanned with the app, we recommend keeping the app closed on your mobile device before logging in online. This is to ensure seamless photo viewing, downloads, edits and uploads.
Join Photomyne to view, edit, and download your photos online
Sign up here